Come kick off the Holiday Season at the Evening of Lights!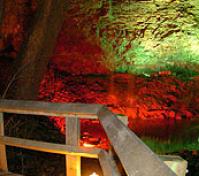 Evening of Lights
Saturday, December 2nd 6 - 9 p.m.
Charleston Falls Preserve
2535 Ross Road, Tipp City
Start the Holiday Season right by joining us for an Evening of Lights at Charleston Falls Preserve. Enjoy the natural beauty of the Preserve at night with a luminary trail leading to the 37' waterfall. Continue on the trail to meet Santa and his helpers. End the evening with complementary hot chocolate and cookies. In the spirit of giving, please bring a canned good to be donated to local food pantries.
IMPORTANT PROGRAM INFORMATION
Due to program popularity, limited parking and safety concerns, admission to the Evening of Lights program at Charleston Falls Preserve now requires proof of registration for admittance.  Program Cost is $5/vehicle (Miami County resident), $15/vehicle (Out of County resident).  You MUST preregister for this event and present registration confirmation ticket to enter the event.  Registrations & payments must be received, processed and acknowledged by Thursday, November 30th.  
Making Your Reservation
Online registration begins October 18th by clicking the link below. There are a limited number of reservations available - so register early. Registration will close on Thursday, November 30th. Registering and paying online is easy and only takes a couple minutes. You must present your registration confirmation in order to enter the event. 
Reservation Fee
A non-refundable reservation fee is due at time of registration and covers everyone in your vehicle. 
Miami County residents - $5 fee per vehicle
Miami County Residents Register Here
Out of County residents - $15 fee per vehicle
Out of County Residents Register Here
Tips for Registering 
If you receive an error message, please wait to see if you have received a payment confirmation (be sure to check your junk mail). Do NOT enter your payment information twice. The Chrome browser works best with the payment system.